Week Forty-Four: Multi-Grain Breads
I love names like this.  Kitchen Sink Crackers.  It implies a friendliness in the recipe, one that says, "Go ahead, throw it in!  I can take it!"  It's accomodating, a rare adjective in the baking world.  The version made here uses six different flours, but could be made with as few as two (why bother with just one?).  I've also added millet in, for that fabulous tiny pop it brings to every bite, and pretty dots of yellow throughout.
I was a little apprehensive that, with all the flours included, the overall taste would be rather muddy.  But what resulted was instead a lovely complexity, the various grains all blending together into a multi-layered and rustic flavor.  Though these are yeasted crackers, they aren't given a second rise, but are baked immediately after rolling out.  Thus, they aren't meant to be thick and chewy, but wafer-like and crisp.
My one problem with this recipe was also one of my favorite things about the recipe: the millet.  I adore millet in breads and crackers, but the round things actually prevented me from rolling the dough as thinly as I would ideally have wanted, making the finished crackers more thick and hearty than fragile and light.  This was not a bad state of affairs, but not what I had envisioned.
Another problem was that I used a pasta roller to make quick work of flattening the dough, but the millet caught in the opening, and the dough was just soft enough to tear whenever that happened.  So my crackers ended up with jagged edges and holes, which I thought was nevertheless appropriate for the grainy texture.  If you're going for a cleaner look, try substituting sesame seeds instead of millet; they're flatter, and therefore wouldn't hinder rolling, but would still provide a nice crunch.  Alternatively, you could totally omit seeds, and use a bit of cornmeal in place of some flour, which would give a slightly similar crunchy texture.
The end result was a little more substantial than I originally wanted, but it works beautifully.  These crackers are full of stout flavor and texture (and a bit of nearly every flour I have).  The variations are, of course, endless; these agreeable little guys seem to be able to take anything you might throw at them.
Except maybe the actual kitchen sink.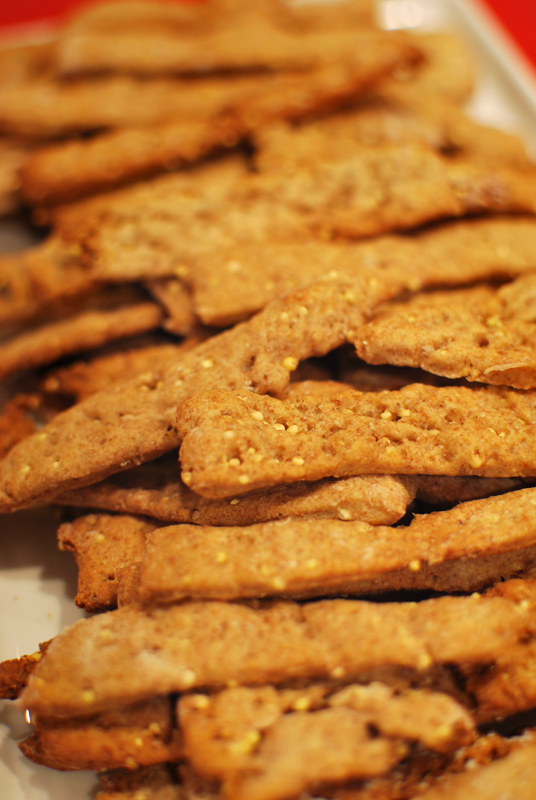 Kitchen Sink Crackers
Adapted from The Professional Pastry Chef, by Bo Friberg
Makes about a million crackers
12 ounces (about 2½ cups) unbleached bread flour
4 ounces (1 scant cup) whole wheat flour
4 ounces (1 scant cup) rye flour (any sort)
2 ounces (a generous 1/2 cup) spelt flour
2 ounces (a scant 1/2 cup) teff flour
2 ounces (about 1/2 cup) rice flour (any sort)
1 tablespoon kosher salt (2½ teaspoons table salt)
2 teaspoons instant yeast
1 cup water
3/4 cup light-flavored beer
3 tablespoons vegetable oil (any sort)
1 tablespoon honey
1/2 cup millet
1.  In a large bowl, whisk together all the flours, the salt, and the yeast.  Add the water, beer, oil, and honey.  Stir together until a rough dough forms.
2.  Turn the dough out onto a work surface.  Knead until smooth, about 2 minutes, dusting with extra flour (of any sort) as needed to prevent sticking.
3.  Add the millet in small increments, and knead to incorporate evenly.  (You may find this easier to do in the bowl, to contain the millet as much as possible.)  When all the millet is added, return the dough to the bowl, cover with plastic wrap, and let rest at room temperature for 1 hour.
4.  Preheat the oven to 375º F, and position the racks near the middle of the oven.  Line as many baking sheets as you have with parchment paper, or just leave ungreased.
5.  Divide the dough into 4 pieces.  Lightly flour each piece, covering the unused pieces with a kitchen towel or plastic wrap, and roll out as thinly as possible, dusting with flour as needed to prevent sticking.  If you have a pasta roller, this is the time to use it.  If not, a rolling pin is fine.  If the dough resists while rolling, cover and let rest while working on the other pieces.
6.  Cut the rolled-out dough into desired shapes, and transfer to the baking sheets.  Bake at 375º F for 15 to 20 minutes, or until golden brown.  Transfer to a rack to cool thoroughly.
Notes:
1.  Crackers will keep, in an airtight container at room temperature, for about two weeks.
2.  The flours listed here are suggestions more than mandates; feel free to use whatever mixture of flours you like, as long as the total weight equals 26 ounces (volume measurements will vary by type of flour used; see here for a fairly comprehensive list of equivalents).
3.  Instead of millet, you can use whatever other small seed you prefer, or happen to have on hand (such as sesame or poppy seed).