Week Twenty-Nine: African Breads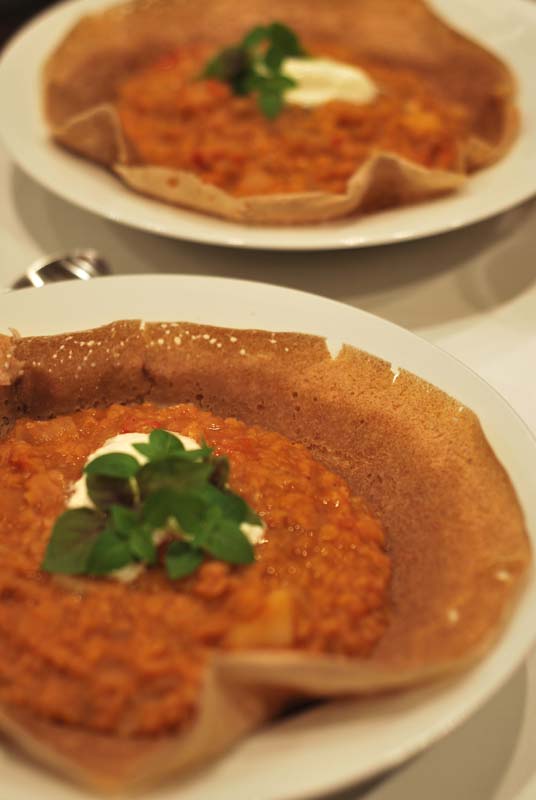 The last bread for this week is one that you've surely seen if you've ever eaten at an Ethiopian restaurant.  It's called injera, and it's that spongy, sour flatbread, likely served underneath your main dish.  In fact, if you've eaten at a very authentic place (or actually been to Ethiopia), the injera was probably not only used as the utensils, but also as the tablecloth.  Which you then ate.  With pleasure.
Eaten alone, injera tastes almost too sour, the result of a nearly week-long fermentation process.  But served underneath any number of highly spiced, stew-like dishes, the flavor mellows considerably and provides a delightful complexity to the other food served with and on it.  For this reason, you rarely see injera eaten alone, though it's not unusual to see a plate of extras on the table.
If making Ethiopian food sounds horribly exotic, perhaps way too far out of your comfort zone, trust me when I say it's far more familiar than you might think.  Have you ever cooked lentils?  Then you know how to make misir wot (the Ethiopian lentil stew recipe given below)!  Ever made a sourdough starter?  How about crêpes?  If so, you already know everything you need to make injera!
And not only is it more familiar than you might think to make injera, but it's also incredibly easy.  Like any great bread, there is an excruciatingly long waiting time (it takes at least 5 full days!), but there isn't anything harder to it than swirling batter around the bottom of a hot pan.  Oh, though I did have some difficulty with the cooked injera sticking to my plates while cooling (step 8 of the recipe, wherein you use a 2-plate system for cooling and stacking the cooked breads).  This was greatly alleviated by oiling the cooling plate first.  I also determined that if you only let it cool on the plate for about 30 seconds, then immediately transfer it to the stack of cooked breads, it releases much more easily.  This will all become more clear once you're in your own rhythm of cooking the injera.
This bread ended up almost exactly as I recall from my (albeit limited) visits to Ethiopian restaurants, if a little crispier around the edges.  The injera are rather stiff when pulled from the pan, but they soften into that familiar, spongy texture after standing for a minute or two.  And like crêpes, the first one or two injera may not turn out very well.  But if you persevere, you will be rewarded with a plateful of deliciously sour, wonderfully authentic injera, ready to be topped with whatever you like.  I've given a recipe for an Ethiopian lentil stew that I enjoyed greatly, and that simmered happily on a back burner while I cooked the injera.  And remember, when in Rome, all that jazz, so try leaving the spoons in the drawer, and eat with your hands!
Injera
Adapted from The Sour Dough
Makes about 20
For starter:
3/4 cup water, room temperature
1/2 cup teff flour
1/8 teaspoon instant yeast
For first feeding:
1/2 cup water, room temperature
1/3 cup teff flour
For second feeding:
1/2 cup water, room temperature
1/3 cup teff flour
For final dough:
2 cups all-purpose flour
1/2 teaspoon kosher salt
1 tablespoon baking powder
3/4 cup water, room temperature
1.  Combine starter ingredients in a 4 cup container with a lid, whisking until smooth. Loosely cover the starter with the lid.  Let sit at room temperature for 2 days.
2.  On the third day, whisk the starter.  There should be a grassy, yeasty smell, and small bubbles should rise to the top.  Feed the starter 1/3 cup teff flour and 1/2 cup water.  Loosely cover with the lid, and let sit at room temperature for 2 more days.
3.  On the fifth day, the starter should have separated into distinct layers, should look fizzy, and have a very strong grassy smell.  Feed a second time with 1/3 cup teff flour and 1/2 cup water. Loosely cover and let sit at room temperature for at least 4 hours before continuing.
4.  Whisk the starter. Using a blender or food processor, blend the starter until it no longer feels gritty when rubbed between two fingers, about 2 minutes. Transfer starter to a large bowl.
5.  Add flour, salt, baking powder, and water.  Whisk until smooth, adding any extra water as necessary to achieve the proper consistency.  The batter should be about as thick as heavy cream.  Loosely cover the bowl with plastic wrap, and let sit at room temperature for 4 to 6 hours.
6.  Whisk batter.  If it is has thickened too much, add a little water until the correct consistency is achieved.  Heat a nonstick pan over medium heat.  Lightly oil one flat plate, and set aside.
7.  Pour about 1/4 cup batter into the heated pan, and immediately swirl around to coat the bottom of the pan, as if making a crêpe.  Cook until the surface of the injera is set, and all air bubbles have popped.  Do not turn injera over.
8.  Remove Injera from pan, and transfer to the lightly oiled plate.  Allow to cool briefly, then transfer to a second plate.  Cover with a piece of wax paper.  Repeat with the remaining batter, stacking cooked injera with wax paper in between to prevent sticking.
Bonus recipe!
Misir Wot (Spicy Lentil Stew)
Serves 4
2 tablespoons olive oil
1 medium onion, chopped
2 cloves garlic, minced
1 tablespoon ginger (about a 1 inch knob), minced or grated
1 to 2 tablespoons berberé, from this recipe
1 cup red lentils, rinsed
1 large tomato, chopped
1 1/2 cups vegetable stock
2 teaspoons balsamic vinegar
Salt and black pepper, to taste
1.  In dutch oven or large pot, heat the olive oil over medium heat.  Sauté the onion until soft and lightly browned, about 10 minutes.
2.  Add garlic, ginger, and berberé, and cook until fragrant, about 1 minute.
3.  Add the lentils and cook for about 1 to 2 minutes, stirring to prevent burning.  Add the tomato and the vegetable stock.  Bring to a boil, and simmer for 15 to 20 minutes, or until the lentils are soft and the stew is thickened.  Add the vinegar, and season with salt and pepper to taste.  Serve warm over injera.
Notes:
1.  This injera recipe makes just enough starter for one recipe.  If you want to keep some starter for continuous injera-making, you'll need to add an additional two days to the process.  On the fifth day (after the second feeding), instead of adding the all-purpose flour and other ingredients, just wait an extra two days before continuing.  On the seventh day, feed the starter again (with 1/3 cup teff flour and 1/2 cup water).  Continue with step 4, using 2 cups of the starter, and reserving the rest.  Feed the remainder as you would with a new starter.
2.  The injera froze beautifully, stacked with wax paper in between each one.  It thawed quickly under some misir wot, simply heated in the microwave.
3.  Teff flour is crucial to the characteristic texture of injera, and can be found at many natural foods stores (*cough* whole foods *cough*).