Week Twenty: Southern Breads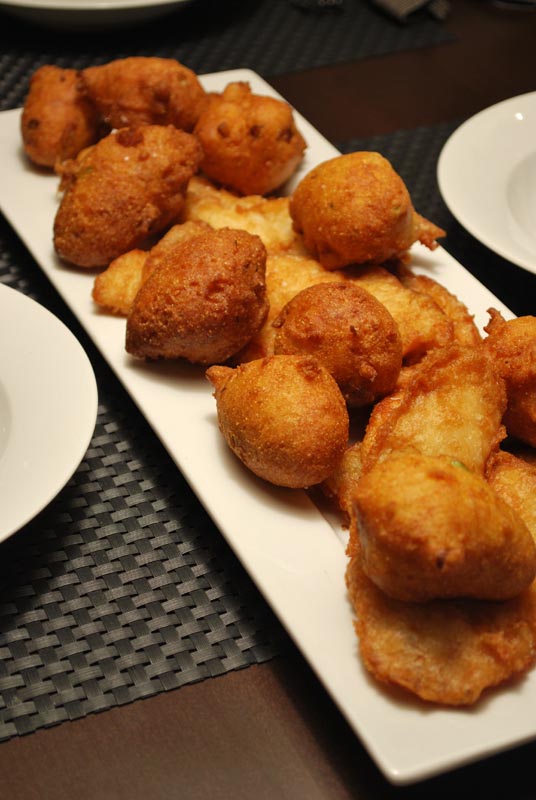 Hushpuppies!  Who doesn't love them?  No one, that's who.  Maybe you've never thought about making them in your own home, but they really couldn't be simpler.  Can you heat oil?  Can you stir ingredients together?  Then you can make hushpuppies.  Oh yes, it's the glory of fish camps from Virginia down to Miami, from Pensacola to Corpus Christi, it can be yours, and with very little trouble.
But there's one secret to making the best hushpuppies.  It's the same reason you pretty much only see hushpuppies alongside fried seafood: hushpuppies taste best when fried in the same oil that previously fried fish.  Not so much chicken, and certainly not potatoes, just fish.  I don't know why.  This is one of the great mysteries of the world.  Since I can't really imagine eating hushpuppies with anything but fried seafood, this works out perfectly.
Some night, when you and your friends are feeling up to it, get some good whitefish and throw a party; any type will do as long as it's mild-flavored and firm-fleshed.  I used tilapia to great success, but whatever's fresh (or on sale) is great, such as grouper, catfish, trout, cod, or haddock.  Make sure it looks firm, not cloudy, and smells like the sea.  If it smells fishy, throw it back.  Frozen fish is a perfect choice if there's no reputable fishmonger around, as the filets are frozen almost immediately, and can often surprisingly be "fresher" than the sad, grayish things at a sub-par fish counter.
I'm giving you a recipe below for my favorite beer batter, but use whatever breading or batter you like.  This one fries into a light, almost tempura-like coating, which I just love.  It's airiness makes a nice contrast to the hushpuppies, which are a bit denser.
Speaking of those hushpuppies, they fry up into amazing little balls of crunchy crust on the outside, and tender, densely moist interior, spiked with the pungent sweetness of green onion.  If you prefer to use another onion, feel free.  I like seeing little flecks of green in amongst the yellow center, but if you don't, there's no harm in using a white onion.
I've eliminated much of the crumbly (and sometimes dry) nature of the hushpuppy by using corn flour, which is simply a finer grind of cornmeal.  You can find it in some grocery stores, or in many natural-food stores (ahem, Whole Foods).  If you can't find it, substitute regular cornmeal instead.  They'll be a bit crumblier, but they should still be moist inside.
If you're worried about your house smelling like a fry shack, open up some windows, turn on your exhaust fan, and burn some nice scented candles afterwards.  (But I honestly didn't even notice a shadow of a smell a day later, and this is in 500 square feet total living space.)  Trust me, any lingering smell is worth it – a tantalizing reminder of the feast you enjoyed before.  This beer batter can stand up to any you might find in a restaurant.  Heck, it might even be better than many restaurants.  And when you crunch into those delectable little hushpuppies, savory and full of corn and onion flavor, you won't even care about the fact that they're deep-fried.  Wipe that grease off your fingers, and reach for another.  I'll be joining you.
Hushpuppies
Adapted from The Joy of Cooking
Makes about 20 
1 cup finely ground corn flour (such as Bob's Red Mill)
2/3 cup corn meal, preferably stone-ground
1/3 cup all-purpose flour
2 teaspoons baking powder
1/2 teaspoon baking soda
1 teaspoon freshly-ground black pepper
1 teaspoon kosher salt
1/8 teaspoon cayenne pepper, or to taste
2 eggs
1 cup buttermilk
1/2 cup green onions (2 or 3), finely chopped
Vegetable oil for frying 
1.  Preheat oven to 200º F.  Place a baking sheet in the oven.  Whisk the dry ingredients (corn flour through cayenne pepper) together in a large bowl.  Whisk the eggs and buttermilk together.  Add the egg mixture and the green onions to the dry ingredients.
2.  In a cast iron pan, or any deep, heavy pan, heat at least 1 inch of oil to 360º F.  Prepare a draining plate, by lining a plate with several layers of paper towels.  Drop the batter into the hot oil by tablespoons.  Cook on each side for about 60 seconds, or until golden brown (color will deepen after removed from oil).  Remove to the paper towel-lined plate, let drain for a bit, and then transfer to the baking sheet in the oven to keep warm until serving.  Fry all remaining batter in batches, without crowding the pan.  Serve as soon as possible.
Notes:
1.  Hushpuppies will keep, wrapped in foil, at room temperature for a day.  If not eating in that time, refrigerate them wrapped well in foil.  Reheat in a 350º F oven for 5 to 10 minutes.
2.  Maybe it goes without saying, but if you're frying fish with the hushpuppies, fry the fish first, then the hushpuppies.  It should all stay warm in the same oven.
3.  You'll get the best results if you have a candy or deep-fat thermometer to monitor the temperature of the oil, but my gas stove stayed at a reasonable temperature at just between medium and medium-high.  Keep in mind that the temperature of the fat will drop every time you put something in it.
Bonus Recipe!
Beer Battered Fish
Makes 4 to 6 servings
 1 cup all-purpose flour
1/2 teaspoon baking powder
1/2 teaspoon salt, plus extra for seasoning fish after removing from oil
1 pinch white pepper, or to taste
1 cup light beer
1 1/2 to 2 pounds firm, mild-flavored fish filets, such as trout, grouper, tilapia, or catfish
Vegetable oil for frying 
1.  Heat oven to 200º F, and place a baking sheet on one rack.  Whisk flour, baking powder, salt, and white pepper together in a medium bowl.  Add beer, and whisk until combined.
2.  In a cast iron pan, or any deep, heavy pan, heat at least 2 inches of oil to 360º to 375º F.  Prepare a draining plate, by lining a plate with several layers of paper towels.   Fully coat each filet in the batter.  Let excess drip off before frying.  Cooking 2 filets at a time, fry fish for 2 to 3 minutes, or until golden brown.  Remove fish from oil with a slotted spoon or strainer, and place on paper towel-lined plate.  Immediately season with salt.  Let drain for a bit, then transfer to baking sheet in oven to keep warm.  Serve as soon as possible.