Week Forty-Five: Potent or Unusual Flavors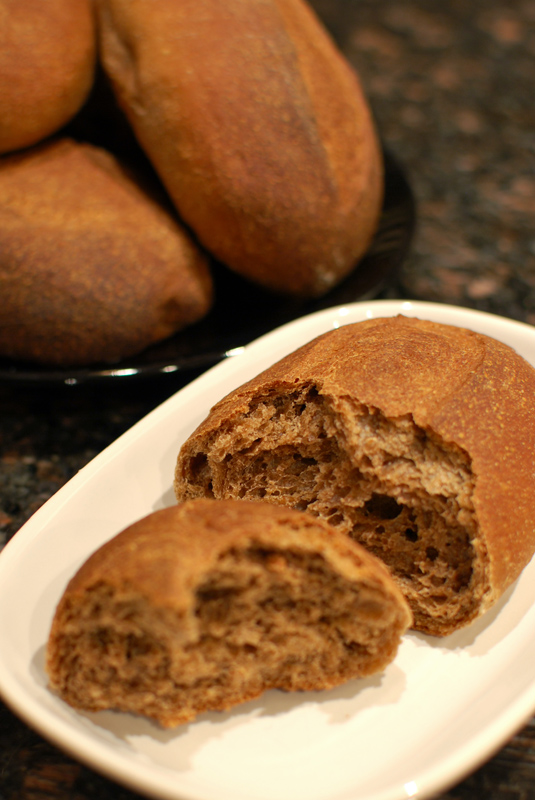 Today's bread is one of those dark, slightly grain, soft-crusted, and boldly sweet types that people either can't get enough of, or could care less about.  Personally, I fall into the latter category, preferring a more savory bread.  (Funny  how little of a sweet tooth I have, considering how much I love to bake.)
But as sweet as this bread is, it has a lovely earthy flavor, the copious amount of honey removing any trace of bitterness from the cocoa powder and coffee used in the dough, and leaving only their richness and depth.  Just barely nutty from the whole wheat flour, the predominant flavor is one of the complex sweetness of whole grains and honey, not the shrill saccharine of a cake.
The crumb is even and tender, with an appropriate lack of gaping holes, though it is by no means dense.  Yes, this bread is soft, and I will always choose a harder crust, but it's a well-balanced example of its breed.  Robust and dark, it's a good recipe to have on hand, even if it's not always what I'd prefer.
Honey Wheat Black Bread
Adapted from King Arthur Flour
Makes 8 small loaves
8½ ounces (a scant 2 cups) unbleached bread flour
6½ ounces (about 1½ cups) white whole wheat flour
4½ ounces (1 cup) regular whole wheat flour
1 tablespoon unsweetened cocoa powder
2 teaspoons instant coffee
2¼ teaspoons instant yeast
1½ teaspoons salt
1½ cups water, at room temperature
1/2 cup (6 ounces) honey
2 tablespoons olive oil
1.  In the bowl of a stand mixer, whisk together the flours, cocoa, coffee, yeast, and salt.  Add the water, honey, and olive oil.  Using the dough hook, mix at low speed until a rough dough forms.  Increase the speed to medium-low, and continue kneading until smooth and supple, about 10 minutes.
2.  Transfer the dough to a large, lightly oiled bowl.  Cover tightly with plastic wrap, and let sit at room temperature until doubled in size, about 1 hour.
3.  Lightly grease a large baking sheet, or line with parchment paper.  Turn the dough out onto a lightly floured work surface, pressing gently to deflate.  Divide the dough into 8 even pieces.  Shape each piece into a small log-shaped loaf, dusting with flour as needed to prevent sticking.  Transfer each piece to the prepared baking sheet, and cover loosely with lightly oiled plastic wrap.
4.  Let rise at room temperature for about 1 hour, or until they look puffy, but are not quite doubled in size.  Thirty minutes before baking, preheat the oven to 400º F, and position a rack near the middle of the oven.
5.  When fully risen, quickly slash the loaves once lengthwise with a sharp serrated knife or razor blade, letting only the weight of the knife press into the dough.  Bake at 400º F for 20 to 25 minutes, or until the loaves appear slightly darker on the top.  An instant-read thermometer should register around 200º F when inserted into the center of a loaf.  Remove to a wire rack to cool before serving.
Notes:
1.  This bread stays moist for at least four days at room temperature, in an airtight container.  If you prefer a less sweet bread, cut the honey to 1/4 cup; but the bread won't stay moist as long.