Week Ten: Dinner Rolls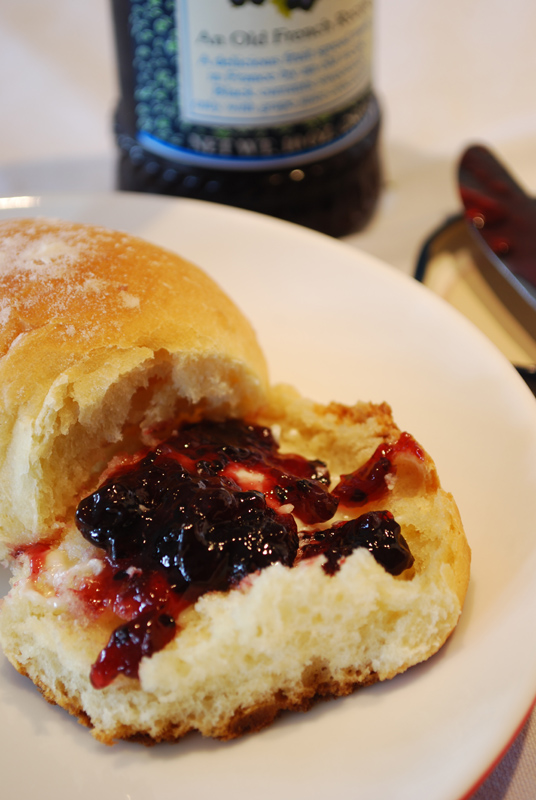 This bread is a standard in my grandmother's kitchen.  My Kentucky-born-and-bred, dairy-farm-living, country-cooking grandmother.  You can find it in the grocery stores, sold as "Hawaiian Bread", but I've also seen it called "Portuguese Sweet Bread".  Me, I always just recognized it as that yellowish bread in the orange package.  It comes in either a large round loaf, a few large rolls, or a dozen or so small dinner rolls; and this recipe can obviously be made any shape or size you like.
It's so sweet, it's almost cake-like.  Fluffy, light, and soft, you can't beat it when it's toasted to a golden brown and coated with butter.  And if you've ever eaten in my grandmother's kitchen, you know I'm not kidding when I say "coated".
I don't know if anyone has afternoon tea anymore, but this would be an ideal bread to serve with a spot of tea, alongside some clotted cream or crème fraîche, some good butter, and an assortment of good jams and jellies.  I can just see it next to a cup of Earl Grey or Orange Pekoe.  Perfect!
My grandmother, the last time I visited her, served a round loaf of this bread, hollowed out, filled with a spinach dip so good that I had to ask for the recipe (it had water chestnuts in it!).  You were intended to dip toasted cubes of the removed bread into the spinach dip, but we found it far too soft for that use.  I don't see that as a fault.  Though we ate the dip with pita bread wedges, the bits of the spinach-dip-infused bread bowl that I ripped off tasted just as good!

Hawaiian Bread
Makes 16 rolls
1 tablespoon instant yeast, or 4 teaspoons active-dry yeast
1/2 cup milk
6 tablespoons unsalted butter, softened
1/4 cup pineapple juice
1 teaspoon salt
3 1/2 cups (15 ounces) all-purpose flour
1/4 cup (1 1/4 ounces) potato flour
2 large eggs
1/2 cup sugar
2 teaspoons vanilla
1/8 teaspoon lemon extract, or 1 1/2 teaspoons lemon zest
In a medium-sized mixing bowl, or in the bowl of an electric mixer, combine all of the ingredients, reserving a handful of the flour, and mixing until the dough starts to leave the sides of the bowl.  You may need a little more or a little less of the indicated amount of flour, add the reserved handful as needed.  If making by hand, transfer the dough to a lightly greased surface, oil your hands, and knead it for 6 to 8 minutes, or until it's smooth, shiny, and supple. If using a mixer, knead with the dough hook for 5 to 7 minutes, or until smooth, shiny, and supple.  Transfer the dough to a lightly oiled bowl, cover with plastic wrap, and allow the dough to rise till puffy, though not necessarily doubled in bulk, about 90 minutes, depending on the warmth of your kitchen. 
Transfer the dough to a lightly greased work surface, and divide it into 16 pieces. Round each piece into a smooth ball. Place the balls in a lightly oiled 12 x 12-inch pan, or two 9-inch round pans, a 9 x 13-inch pan, 14-inch round pan, etc.  Cover the pan(s), and allow the rolls to rise for about 1 hour; they should double in bulk.  Preheat the oven to 325°F.
Bake the rolls at 325°F for 20 minutes, then tent lightly with aluminum foil, and bake for another 10 minutes. Remove them from the oven when they're golden brown, and transfer them to a wire rack to cool.
Notes:
1.  Instead of potato flour, you can use instant mashed potato flakes, ground finely in a food processor with a little of the flour.