Week Twenty-Three: Breads With Fruit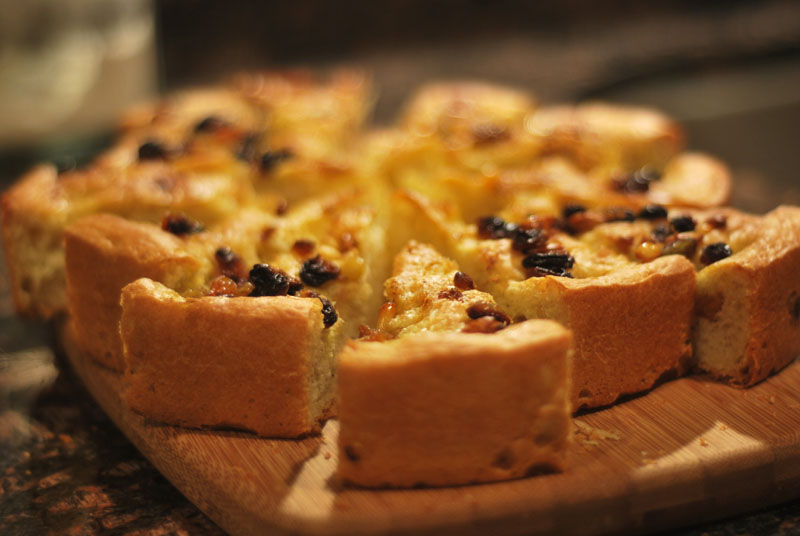 Fruit is one of those foods that you don't generally associate with yeast bread.  Well, I don't, anyway.  I'm not a big jelly or jam fan (with the exception of my Nanny's grape jelly, which is like sugar gold), and I've never been much for that whole "sweet and savory" combination.  I do like a crunchy sliced pear with bread and a cheese plate, but that's not really what I'm talking about.
I'm talking about using fruit as a major flavoring ingredient in a yeast bread.  Let's leave quick breads out of this for the time being; everyone and their brother has a banana bread recipe.  But imagine bananas in a hard-crusted, airy-crumbed artisan loaf – it just seems a bit wrong, doesn't it?  Or is it just me?  It's certainly intriguing, but I can't recall having seen a whole lot of fruit in yeast breads, other than maybe some raisins or currants.
If you know me, you know that one thing I dearly love in the kitchen is a challenge.  Dare me to produce a birthday cake so unusual that most people wouldn't want to try it, based solely on the description; and I will dare you to not enjoy the chocolate, pear, walnut, and blue cheese cake I unveil before your eyes.  (It was delicious and shockingly rich.)
Given my love of challenges, when thinking about the theme for this week, I challenged myself to not produce a week of quick breads.  It's simple to imagine all sorts of muffins and tea breads studded with various fruits; but essentially, they're all the same.  Tea bread base + fruit = fruit bread.  Tasty.  Dull.  Boring.  Blah.  But if you put some puréed mango into your sourdough?  Now that's interesting!
This first bread is a take on that old favorite, focaccia.  The dough is a little different from the first time I tried focaccia, as this one is enriched with a little milk, but the technique is basically the same.  Italians have a long tradition of creating sweet breads, most notably with panettone, that centerpiece of the Christmas table.
You may or may not recognize that this bread is quite similar to schiacciata con l'uva, or "flatbread with grapes".  "Schiacciata" literally means "flattened", and is quite flat, as you might expect with such a name.  This bread, however, is much fluffier than a traditional schiacciata, more like a traditional focaccia, so I've kept that name.  Also, schiacciata dough is typically sweeter than this one, and doesn't have the grapes mixed into the dough, which this recipe does.
This bread turned out fluffy and rich with a definite fruity, grape flavor.  Slightly crusty on the outside, the interior was light and airy, with the occasional pleasant crunch from the pine nuts.  I did not give the dough an initial bulk rise; I just immediately put it into the baking pans.  But if I were to make it again, I would definitely give it that first extra rise.  The flavor of the dough was just not as complex as I'd like (and as I've grown accustomed to producing!).
Another misstep was that I got a bit distracted while the loaves were baking.  Keep an eye on these; those poor little raisins can get burnt to a crisp in a moment!  So I didn't get the pretty contrast of yellow raisins and purple grapes that I was envisioning, but it was still attractive.
Otherwise, this bread was a success!  The flavors were just lovely – who knew grapes, raisins, and olive oil were so good together?  I can definitely see tossing in a little rosemary to the mix, for a little complexity.  And to serve, I can't imagine anything better than a slather of a good and creamy mascarpone, as is traditionally served with schiacciata.  Give me a glass of Chianti (or any dry red, for that matter) on the side, and I might just skip a proper dinner for this!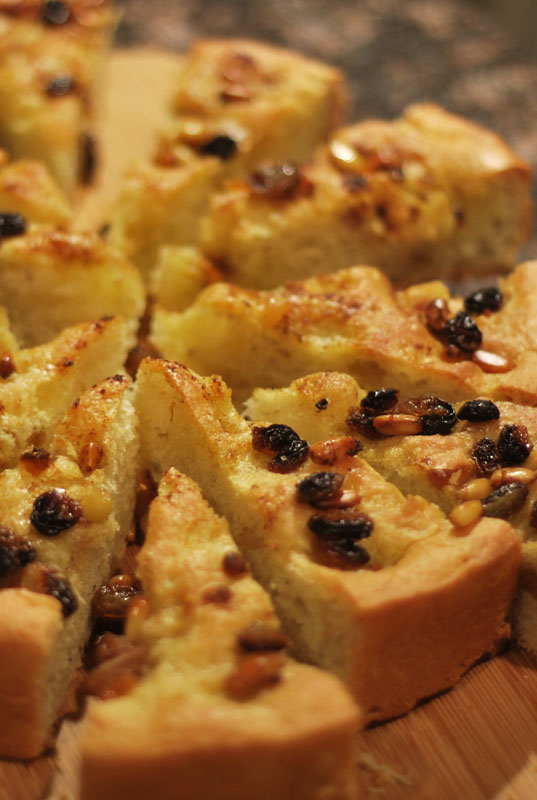 Focaccia di Frutti
Makes two 9 inch rounds
1/2 cup olive oil
1/2 cup pine nuts
1 cup black or purple seedless grapes, halved
1 cup golden raisins
6 ounces (about 1 1/3 cup) unbleached all-purpose flour
4 ounces (1 scant cup) unbleached bread flour
1 tablespoon kosher salt
2 teaspoons instant yeast
1/2 cup hot milk (120° to 130° F)
3/4 cup hot water (120° to 130° F)
1.  Heat the olive oil over medium-high heat in a large skillet until hot, but not smoking.  Add the pine nuts and cook until just beginning to turn golden brown.  Remove from heat, add the grapes and raisins, and toss to coat.  Set aside until cooled to room temperature.
2.  Lightly oil two 9 or 10 inch cake pans, and set aside.  In the bowl of a stand mixer, whisk together the flours, salt, and yeast.  Add the water and milk.  Using the dough hook, mix at low speed until the dough comes together, scraping the bowl if necessary.  The dough should look a bit dry.
3.  Add half of the grape mixture (including oil) to the dough.  Set the remainder aside.  Mix on low until the mixture is incorporated into the dough (you may need to add a bit of flour to help it out).  Increase the speed to medium-low and knead until smooth and elastic, about 6 to 8 minutes, adding a little extra flour by tablespoons if needed to achieve the proper consistency.  The dough should be a little slack and sticky, but not too wet.
4.  Turn the dough out onto a lightly floured surface.  Divide into two equal pieces, and form each into a round ball.  Flatten, stretch, or roll each piece out to a 10 inch round (or to the size of your cake pans).  Place each in a prepared cake pan.  Cover loosely with lightly-oiled plastic wrap, and let rise in a warm place for 45 minutes.
5.  After 45 minutes, uncover the dough.  Use your fingertips to push dimples into the surface of the dough in a regular pattern.  Cover again with plastic wrap, and let rest until doubled in size, about 30 to 45 minutes.  Meanwhile, preheat oven to 400° F.
6.  When dough is fully proofed, divide the reserved grape mixture in half.  Evenly distribute the mixture across the tops of the risen loaves, and drizzle any liquid over the top.  Bake the bread at 400° F for 25 to 30 minutes, or until golden brown and baked through.  If the raisins start to burn before the bread is fully baked, tent loosely with aluminum foil, and finish baking as directed.
7.  Remove the focaccia from the pans and let cool at least 15 minutes on a wire rack before cutting.  Serve warm.
Notes:
1.  If you like, some herbs such as basil, thyme, or especially rosemary would go beautifully with the grape mixture.  Just throw in 2 or 3 teaspoons with the grapes and raisins (step 1 above).
2.  Focaccia will keep frozen, tightly wrapped, for up to 1 month.  Thaw in a 350° F oven for 5 to 10 minutes, or until warm.