Week Eleven: Savory Pancakes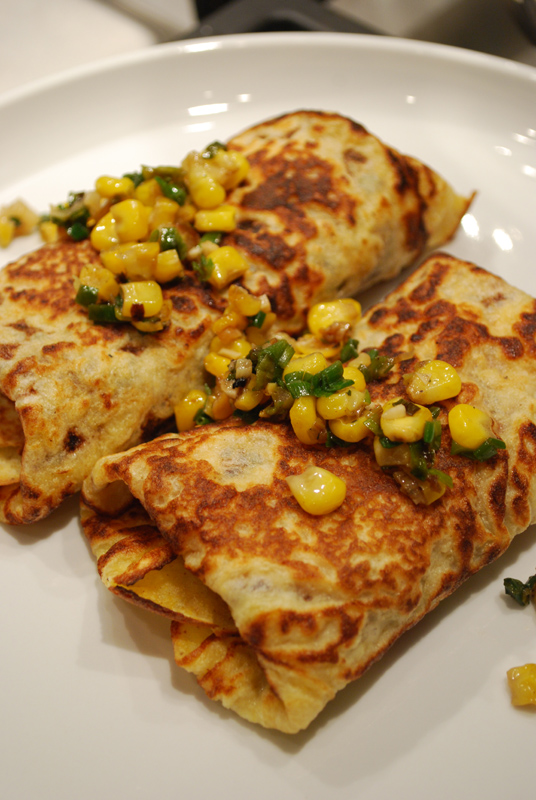 Ah, the crêpe.  A most unapologetically French food, it is a little fussy, yet quite simple when you get right down to it, and incredibly delicious.  Though there are similar flatbreads (or pancakes) in many cultures throughout the world, nothing is exactly like the French crêpe.  Quickly made on a hot pan or round griddle, the wafer-thin pancake has made quite a famous name for itself.
In America, crêpes are typically seen in sweet applications, as in the famed dessert Crêpes Suzette.  But in France, crêpe stands are about as ubiquitous as fast-food restaurants are in the US, and there they are as often served savory as they are sweet.  They can be (and are) filled with anything imaginable, such as asparagus, ham, ratatouille, cheese of every sort, sausage, mushrooms, peppers, fresh fruit, jam, berries, Nutella, and on and on.
Whether sweet or savory, crêpes are made with a thin batter rich with eggs, milk, and butter.  Sweet crêpes are generally made with white flour, whereas savory crêpes are often made instead with buckwheat flour, making them quite similar to the blini I featured earlier this week.  So, to avoid any confusion between sweet and savory, or between blini and crêpe, I decided to go with a recipe that is a little different.  These decidedly savory crêpes are made with cornmeal, rendering them a little more hearty than a standard white flour version.
I know, you're thinking that crêpes are just too much effort for a weeknight dinner.  I beg to differ!  The batter couldn't be easier to make; you just put all the ingredients in a blender, give it a whazz, and you're ready to go!  You can even leave it sitting in the blender while it takes its 30 minute nap, and it's all ready to easily pour into the pan when it's time.  Use that 30 minutes to make a quick filling (now's the time to use up your leftovers, people), and you've got dinner on the table!
And about that little rest: it's a necessary evil.  The batter needs that 30 minutes to let any blended-in air bubbles subside, so that there aren't any tiny holes in your crêpes, which would compromise the structure.  Also during this time, the flour soaks up liquid, so that there aren't any floury lumps in the batter; although that is rendered largely a moot point by the use of a blender.  You can absolutely mix this by hand if you like, but results will be better with a blender.
Oh, and for those of you who dearly miss those sidewalk crêpe stands in France, here is a little rememberance.  Enjoy!
Cornmeal Crêpes
Adapted from Gourmet Magazine
Makes about 12 crepes
1 1/4 cups all-purpose flour
3/4 cup yellow cornmeal
1/2 teaspoon salt
2 cups milk, at room temperature
3 large eggs, at room temperature
2 tablespoons unsalted butter, melted, plus additional for brushing skillet
1.  Blend flour, cornmeal, salt, milk, eggs, and 2 tablespoons butter in a blender until smooth. Let batter stand at room temperature 30 minutes.  If not making crêpes immediately, put batter in refrigerator.
2.  Lightly brush a 10-inch nonstick skillet with butter and heat over moderately high heat until hot but not smoking. Stir batter, then, holding skillet off heat, pour in 1/3 cup batter, immediately tilting and rotating skillet to coat bottom. (If batter sets before skillet is coated, reduce heat slightly for next crêpe.) Return skillet to heat and cook until just set and pale golden around edges, 10 to 15 seconds. Loosen edge of crêpe with a spatula, then flip crêpe over carefully with your fingertips. Cook until underside is set, about 20 seconds more, and transfer crêpe to a plate. Make additional crêpes in same manner, brushing skillet lightly with butter for each and stacking crêpes on plate as cooked.