Week Thirteen: Filled Breads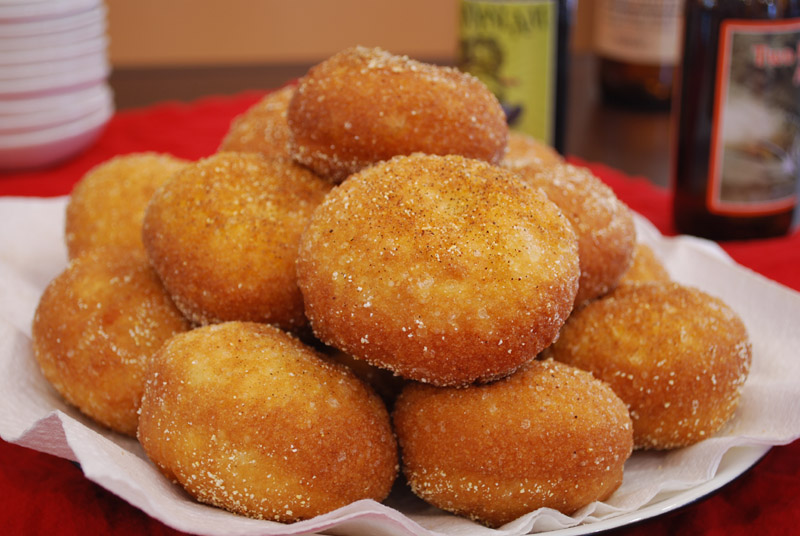 One thing about filled breads is that they tend to be a little over the top.  They're a bit extravagant, a bit flamboyant.  I mean, if you're going to eat anything, it ought to be good on its own, right?  So why bother rolling it into some dough; why not just cook them separately, save yourself some trouble, and be done with it?
Because we can, that's why.  Because it makes bread and filling both a little more special.  Because sometimes, you just want something opulent and lavish, and a little showy.   And because sometimes, you have to pull out the big guns.
This bread is serious.  This bread ain't messing around.  None of your precious croissant, or stately baguette here; this bread means business, so you'd better just forget about eating healthily for today.  Here we have yeast-risen rolls, filled with spicy sausage and cheese, and then fried to a gorgeous golden brown.  Oh my, yes.
You can use any number of highly-seasoned sausages in this application, but please don't use anything mild; the flavor will just get lost.  You need something robust to match the sharp cheddar and the heartiness from the frying.  I used some very spicy chicken chorizo with aged white cheddar, but the combinations are endless: try andouille with cheddar, linguica with smoked gouda, merguez with feta, even a quality pepperoni with mozzarella would be delicious.
If you know me, you know that I'm not real big on heavy, rich foods.  I'm more of a vegetables and plain yogurt person.  (I think sushi is, generally speaking, the perfect food.)  But in retrospect, I wish I had stuffed as much cheese and sausage into these rolls as humanly possible.  I was a little concerned about the filling falling out during cooking; this worry was baseless.  When you slide these rolls into the oil, assuming it's at the proper temperature, a lovely crust forms, containing anything that might try to escape.  Just make sure you pinch the seal together tightly, and you'll have nothing to fear.  And after it was all cooked, I found that some of the rolls were a little understuffed, if anything.  Trust me, no one will be complaining that there is too much delicious sausage and melty cheese in their bread.  If you can manage to wrap the dough around it, it's not too much filling.
These rolls have a bit of cornmeal in the dough, and are lightly dusted with more cornmeal before cooking, both of which lend the crust a wonderful crunch.  And if you haven't over-worked the dough (don't be too cautious, you do want some gluten), that crunch gives way to a soft interior, with a gooey heart full of massive flavors.  The Cajun seasoning sprinkled on the outside is almost like gilding the lily; except that this whole concept is basically like taking the lily, stuffing it with gilded cheese, rolling it in gilded dough, and deep-frying it in gilded oil.  As Bukowski said, if you're going to go, go all the way.
Let me just wrap this up by saying: aged white cheddar.  Spicy chorizo.  Stuffed into bread.  Fried.
That is all.
Chorizo and Cheddar Fried Bread
Adapted from Emeril Lagasse
Makes 24 breads
2 1/4 teaspoons active-dry yeast
1 1/2 tablespoons honey
2 tablespoons vegetable oil
2 cups warm water (105 – 110 degrees F)
24 ounces (a scant 6 cups) unbleached all-purpose flour
1/2 cup + 2 tablespoons cornmeal, plus extra for dusting
2 teaspoons salt
1/2 pound ground spicy sausage (such as chorizo, or similar)
1/2 pound white cheddar cheese, grated
Vegetable oil for frying
Cajun seasoning of choice (such as Tony Chachere's, or Emeril's Essence)
1.  Combine the water and honey in the bowl of a stand mixer, and whisk to combine.   Sprinkle the yeast over, stir, and let stand until foamy, about 5 minutes.  Add the oil.  Reserving a handful of the flour (1 to 2 ounces), add the remaining amount, the cornmeal, and the salt.
2.  With the mixer on low speed, beat the mixture with the dough hook until it begins to form a dough, then increase the speed to medium and beat until the mixture pulls away from the sides of the bowl, forms a ball, and climbs slightly up the dough hook.  Transfer the dough to a lightly-oiled bowl and turn it to coat all sides. Cover the bowl with plastic wrap, and let rise in a warm place until doubled in size, about 2 hours.  Conversely, you can refrigerate it overnight at this point (8 to 10 hours).
3.  While the dough rises, brown the sausage in a skillet over medium heat. Remove to a paper towel-lined plate to drain.  Set aside and let cool to room temperature.  If the dough was refrigerated, let it sit out at room temperature while you complete this step.
4.  Line a baking sheet with parchment paper and sprinkle it with cornmeal.  Turn the dough out onto a lightly floured surface, and press gently to deflate.  Divide the dough into 24 equal pieces.  With the palm of your hand, roll the portions on an un-floured surface to form small round rolls.  Cover the rolls not being used while you fill each one.  Using a sharp knife, make a quick "X" in the bottom of each roll.  Spread the dough open with your thumb and pointer finger to make a small cavity about 1 inch deep and 2 inches wide.  Fill with 2 teaspoons of cheese, then top with 2 teaspoons of sausage, pressing the mixture gently into the cavity.  Pull the dough around the filling, and pinch tightly together to close the cavity.  Place seam-side down on the prepared baking sheet.  Dust the tops with more cornmeal, and cover the rolls with plastic wrap.  Let rise in a warm place until doubled in size, about 30 minutes.
5.  Line another baking sheet with a folded-up paper shopping bag (to help absorb more oil), and lay at least a double thickness of paper towels atop that.  In a suitable pan, heat enough vegetable oil to come at least half-way up the sides of the rolls, to about 375 degrees F.  Gently sliding the rolls into the oil, fry them in batches for about 3 minutes, then turn each one over with a metal utensil and cook the other side until golden brown.  Remove from the oil and drain on the lined baking sheet.  Immediately season the breads with the Cajun seasoning.  Serve warm.
Notes:
1.  These don't keep very well; but if you must, reheat them in a 375 degree F oven until crispy and heated through, about 10 minutes.
2.  Please be careful when adding the dough to the hot oil!  Burns from hot oil are nasty.
3.  For frying, I used my big stock pot (to cut down on splattering) and 1 quart of canola oil; but feel free to use your cast iron pan – that's what it's there for! – and whatever high smoke-point oil you like (that means no olive oil!).