Week Twenty-Seven: Try It Again; This Time With Feeling.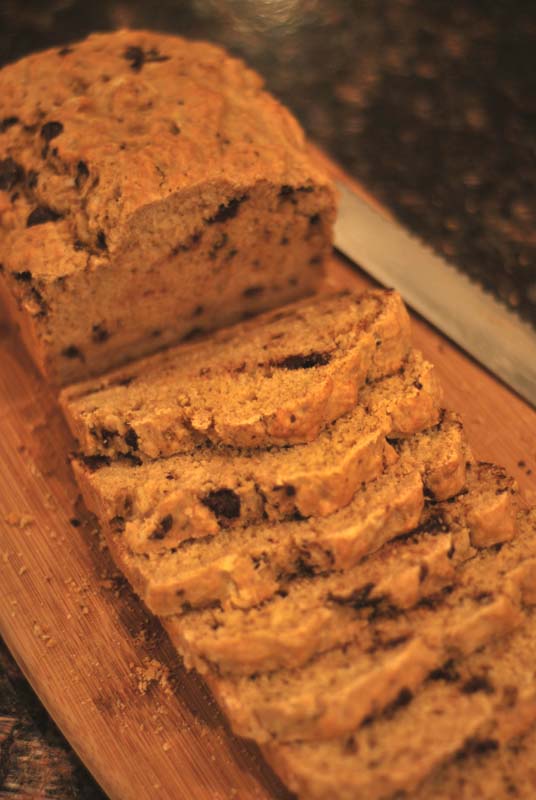 Okay, I think this time I've finally made enough beer bread.  I've probably made enough to choke a horse at this point, but I think I'm actually done now.  For the year, anyway; beer bread will always have a cherished spot in my recipe book!
You may remember the beer bread variations I did a few weeks ago.  One of those variations, the chocolate stout one, didn't exactly turn out as I'd hoped.  The result was very much like an undersweet chocolate cake – not exactly a bad thing, but not what I was going for.  Of course I had to have another crack at it!
Previously, I had added the chocolate into the batter by sifting cocoa powder in with the flour.  The idea was to get a more even distribution of chocolate flavor, which is exactly what happened.  Unfortunately, the crumbly, moist nature of beer bread, reminiscent of a savory cake, rendered that approach a little too dessert-y.  Not to mention, the stout flavor was totally obscured by the pervasive cocoa.
This time around, I opted to simply mix chopped chocolate into the batter instead.  This turned out to be a far better solution, as the bits of chocolate flavor the bread while not obscuring the stout flavor.  Speaking of which, the stout flavor was significantly mellowed.  To be fair, I didn't use the darkest of beers (and technically, it wasn't even a stout, but hey hey), but the bread itself took on a quite pleasant caramel, brown-sugar flavor and color.
I imagine a Guinness or any other proper stout would lend a welcome bitter note that would pair nicely with any type of chocolate, even a quality milk chocolate.  You could always use my almost-bought-it second choice, Young's Double Chocolate Stout, which comes in pleasing over-12-ounces sizes (what will I ever do with those extra ounces?), but which possibly maybe crosses over into too-good-to-cook-with territory.  It's a fine line, that.
[Side note: I'd just like to draw your attention to this brew, discovered while browsing the Wells & Young's site.  If ever there was a beer crying out to have beer bread made with it, I don't think I've seen a more likely candidate.  Perhaps my beer bread days are not done, assuming I can find that somewhere?  Suspenseful!]
Other than the chocolate formatting change, everything else remains the same as in the first attempt at chocolate stout beer bread, most notably the use of olive oil instead of butter (as in the original, plain beer bread).  To my slight dismay, the olive oil flavor doesn't really come through; but I will say that this bread tastes just fantastic when toasted and dipped in olive oil.  Maybe not as supremely amazing as this chocolate bread dipped in olive oil, but still pretty great.  Crumbly, crusty, chocolate-y, this bread covers most of the bases.  Hope you enjoy it – this one's a keeper for me!
Chocolate Stout Beer Bread
Makes one 9 x 5 inch loaf
3 cups + 2 teaspoons all-purpose flour
4 1/2 teaspoons baking powder
1/2 teaspoon salt
3 tablespoons sugar
3 tablespoons olive oil, melted and cooled slightly
12 ounces stout or other dark beer, at room temperature
1 1/2 ounces (1/3 cup) good quality chocolate, chopped (or chocolate chips)
1.  Preheat oven to 350º F.  Lightly grease a 9 x 5 inch loaf pan, and sprinkle with 2 teaspoons all-purpose flour.  Shake the flour around until the whole interior is coated, then knock out the excess.
2.  In a medium bowl, whisk together the flour, baking powder, salt, and sugar.  Add the olive oil and beer, and stir with a spoon or spatula until mostly combined.  Add the chocolate, and fold together until  just combined, and all dry ingredients are moist.  Pour into prepared loaf pan.
3.  Bake at 350º F for 40 to 45 minutes, or until golden brown on top.  Remove from pan.  Cool at least 10 minutes on a rack before slicing.
Notes:
1.  After the bread is baked, loosen the edges with a knife if needed, and gently knock the edge of the pan on the counter to release the loaf.
2.  This recipe can easily be made into muffins instead of a whole loaf.  Grease and flour a muffin tin as directed, and fill each cup about halfway full.  Bake for about 30 minutes, or until golden brown.  Remove from tin and cool on a rack.