Week Seventeen: Bread with Mix-Ins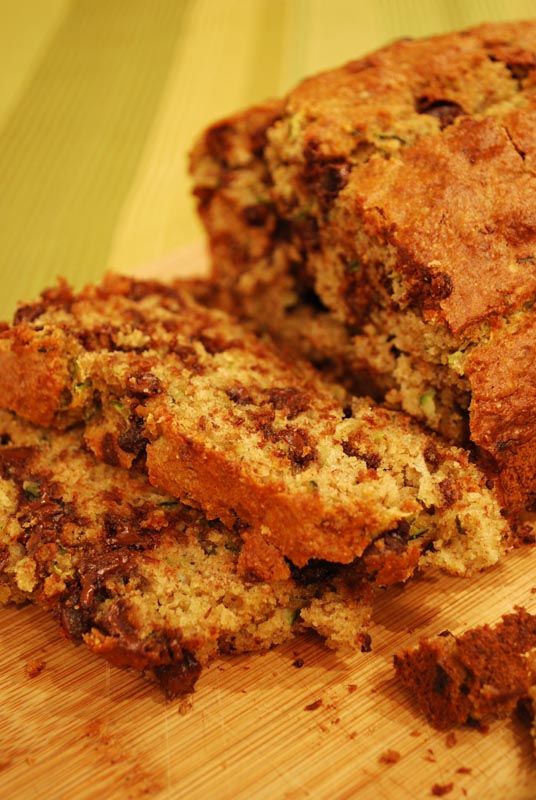 I don't know if this bread sounds strange to anyone, but the internet knows that zucchini and chocolate are best friends.  At least, when you introduce them properly, they are.  (Please don't start dipping your zucchini in chocolate.)
No, I'm talking about pairing them with olive oil and cinnamon to break the ice, and folding them gently into the most tender quick bread this side of a pancake.  I'm not joking about the tenderness here; it was actually difficult to cut, since the bread just kept crumbling into bits under the knife.  I had to cut slices at least a half-inch thick just to keep them intact!  But I guess I was fine with all that; everyone knows that crumbs on the cutting board are fair game and don't count (even though they may be as big as a cookie).
So maybe these would have been better baked in muffin tins, which I'll have to remember for next time.  Either way, though, you've never had a better-tasting way to eat your vegetables.  I know, the sugar pretty much cancels it out; but I've tried to healthy it up as much as possible otherwise.
First, I've limited the sugar as much as is palatable (for me).  You could limit it further; but come on, it's a quick bread!  Live a little.  Olive oil, the only added fat, is quite good for you, and is also in limited quantities here.  The applesauce is there to replace what would otherwise be added oil, or milk, and provides extra moisture.  I've substituted half the flour with whole wheat flour, and added wheat germ and ground flaxseed for an extra nutritional boost.  Cinnamon also brings some strong health benefits to the party; and the allspice just tastes really good.  And, of course, the nutritional powers of dark chocolate have been touted for years now.
Don't think I'm saying this quick bread is a health food, per se.  But if you're craving a sweet, or want to serve a little something special, you can hardly find a treat as packed with nutrients and as incredibly delicious as this.  I still like my plain yogurt for breakfast every morning, but I just might have to have a piece of this on the side.  Until it disappears, that is!
Chocolate Chip Zucchini Bread
Makes one 10×5 inch loaf
2 small (or 1 large) zucchini, grated
3/4 cup applesauce
1/4 cup olive oil
2 eggs
1/2 cup sugar
1/4 cup brown sugar, packed
1 cup whole wheat flour (about 4 ounces)
1 cup unbleached all-purpose flour (about 4 1/2 ounces)
1/2 cup wheat germ
1/4 cup ground flaxseed
3/4 teaspoon baking soda
1/2 teaspoon baking powder
1/2 teaspoon salt
1/2 teaspoon ground cinnamon
1/4 teaspoon allspice
1 cup semisweet chocolate chips (about 6 ounces)
1.  Preheat the oven to 350º F.  Coarsely grate the zucchini, with the peel still on, into a medium bowl.  Mix in the applesauce, olive oil, eggs, and sugars, stirring with a fork to blend until well combined.
2.  Whisk together the flours, wheat germ, flaxseed, baking soda, baking powder, salt, cinnamon, and allspice.  Add the zucchini mixture, and stir until the dry ingredients are just moistened.  Fold in the chocolate chips, taking care not to overmix the batter.
3.  Scrape batter into an oiled or buttered 10 x 5 inch loaf pan.  Bake at 350º F for 1 hour, or until fully baked (a wooden skewer or toothpick comes out almost clean, or the top feels slightly firm when pressed).  Cool in pan 10 minutes, then turn out onto a wire rack to cool completely.
Notes:
1.  This bread makes really excellent muffins.  Bake for 35 to 40 minutes instead, and check to make sure they don't get overdone.
2.  If you have white whole wheat flour, you can use that to replace both flours (2 cups, or 8 1/2 ounces).  You'll get the lightness of an all white flour bread, but the added nutrition of a whole wheat bread.