Week Thirty-Three: Banana Bread Week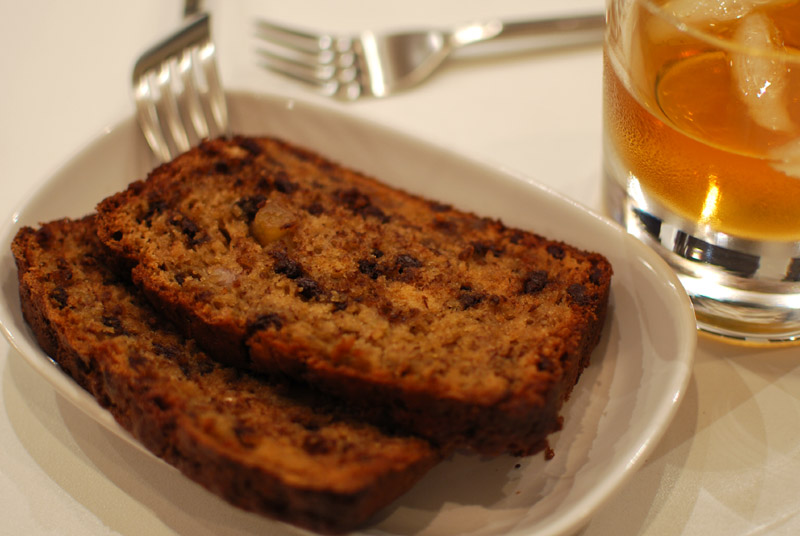 Today's banana bread variation is what I like to call "It's Not Really Even Banana Bread Anymore Banana Bread".  Yes, there's a banana flavor, but it really takes a back seat here.  Drawing inspiration from a glorious description by Molly Wizenberg of Orangette, I've put together a version featuring chocolate, ginger, and coffee in an incredibly moist quick bread.  It's a combination that makes the you-can-taste-it-in-everything over-ripe banana flavor seem subtle.
Yes, that is a glass of bourbon you see up there.  (Ten points if you can guess the brand.)  This bread didn't just suggest the pairing, it demanded it.  If it had little arms and legs, and could move on its own, I think it might've doused itself in the stuff, just to save everyone the trouble of finding a glass.  If you don't drink bourbon… well, I'm so very, very sorry.  And can I have yours?
In case you couldn't guess, this bread is awfully rich.  Can you think of another bread that would warrant a side of bourbon?  Yeah, I can't either.  It ends up a bit more "coffee cake" than "bread", but is so delicious, I don't really care.  So you may only eat it for dessert; so what?  (Not that there's anything wrong with having it for breakfast, either, but hey.)
I've added a shot of espresso to this bread, which doesn't lend a coffee flavor exactly; rather, it deepens the chocolate flavor considerably, and brings just the faintest bitterness to help cut the sweetness a little.  Need I mention how well the spice of candied ginger goes with that?  I didn't think so.
This bread is, again, one of those why-can't-I-cut-the-silly-thing breads, one that gives way under slight pressure from knife or hand, due to its incredibly moist and tender qualities.  If you can manage to hold it together long enough to cut an actual slice, I'm sure it would be most excellent toasted; but use a broiler, and don't dare stick it in an upright toaster – you'd never get it out again.
Here, you end up with an amazingly soft bread, with one of those crusts that gets delightfully sticky after sitting for a day.  Each slice offers chewy jolts of candied ginger that keep your palate from getting lazy and coasting through the bites of deep, rich chocolate, accentuated with a mere backdrop of banana.  This may not be a traditional banana bread, or even really have that much banana flavor at all, but it's certainly one recipe you'll want to keep in your permanent file!
Chocolate Chip Ginger Banana Bread
Adapted from Orangette
Makes one 9 x 5 inch loaf
9 ounces (2 cups) unbleached all-purpose flour
3/4 teaspoon baking powder
3/4 teaspoon baking soda
3/4 teaspoon salt
1 cup sugar
1 large egg
1/3 cup olive oil
1 cup (2 to 3 whole) very ripe bananas, smashed
1/4 cup buttermilk
1/4 cup plain yogurt
1 ounce (2 tablespoons) espresso or very strong coffee
3/4 cup mini chocolate chips
1/2 cup candied ginger, cut into small pieces
1.  Preheat oven to 350° F.  Lightly butter a 9 x 5 inch loaf pan, sprinkle with flour, and turn upside down and knock on the bottom to remove excess.  In a medium bowl, whisk together the flour, baking powder, baking soda, and salt; set aside.
2.  In a large mixing bowl, whisk together the sugar, egg, and olive oil.  Add the smashed bananas, buttermilk, yogurt, and espresso, and stir until combined.
3.  Add the flour mixture, stirring until mostly combined.  Gently fold in the chocolate chips and ginger until incorporated, being careful not to overmix.
4.  Transfer the batter into the prepared loaf pan, and smooth the top.  Bake at 350° F for 1 hour, or until a skewer inserted in the center comes out clean.  Allow to cool in the pan for about 5 minutes before removing to a wire rack to cool fully before slicing.  Serve slightly warm or reheated.
Notes:
1.  Be sure to let the bread cool nearly completely before slicing, to give the bread itself and the melted chocolate time to set a little.  Cut too early, and it will end up gummy.