Week Forty-Six: Professional Recipes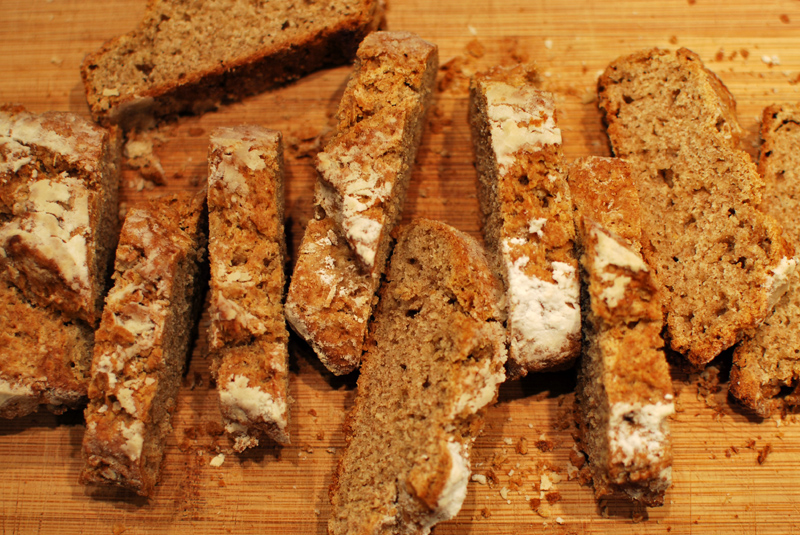 After I ended last week on such a sour note (well, garlic, really), I decided this week to give myself a little help.  Rather than try to concoct strange things all on my own, this week I'll be starting with some guarantee of success by using recipes from professional establishments.  Have I been to any of these establishments, whether bakery, cafe, or restaurant, and have I enjoyed these breads in their natural environments?
No.
No, I haven't.
*Gallic shrug*
This week starts with a type of bread that I dearly love, an Irish-style soda bread.  This version, though the ingredients are not out of the ordinary, is unusual in makeup.  Traditionally, soda breads are made in large, round loaves, and served in wedges.  But today's recipe, as served at Downey's restaurant in Santa Barbara, is made into long "baguettes", and served in slices.
Purists may howl at this, but I think this is actually a much better method.  My favorite part of soda bread is the contrast of the thick crunch of the crust against the soft, biscuity interior.  With round loaves, you get mostly soft interior, and not much crust; but when you shape the dough into logs, you get a far higher crust-to-inside ratio.
This means that each bite has some of the coveted crunch and barely caramelized exterior so beloved and characteristic of soda breads.  Also, with a baguette-sized loaf, you can actually cut manageably small slices, instead of having to deal with a giant farl in addition to whatever you're serving the hearty stuff with.
As for the overall flavor, this is one truly excellent brown soda bread.  The dough is neither too wet nor too dry to shape, and isn't too fussy to mix together.  Best of all, the flavor is gorgeously balanced, with just the perfect amount of sweetness, and the texture is grainy without being sawdusty.  It's rustic, crunchy, incredibly good, and is absolutely going in the permanent file.
Brown Soda Bread "Baguettes"
Adapted from Downey's, Santa Barbara, CA, via Gourmet Magazine
Makes 2 loaves
11½ ounces (about 2½ cups) whole wheat flour
6 ounces (about 1 1/3 cups) unbleached all-purpose flour, plus extra for dusting
2 tablespoons packed brown sugar
1 teaspoon baking soda
1 teaspoon salt
1 stick (1/2 cup) unsalted butter, softened and cut into pieces
1¼ cups well-shaken buttermilk, at room temperature
1 large egg, at room temperature, lightly beaten
1.  Preheat the oven to 425° F, positioning a rack in the middle.  Lightly flour a large baking sheet, or line with parchment paper.
2.  In a large bowl, whisk together the flours, sugar, baking soda, and salt.  Add the butter, and cut in with a pastry blender or fingertips until the mixture resembles coarse meal.
3.  Quickly and gently, stir in the buttermilk and egg until a smooth dough forms.  Turn out onto a lightly-floured surface, and divide into 2 even pieces.  Pat each piece into a long, thin log and transfer to the prepared baking sheet.  Generously sprinkle with flour, and cut 3 diagonal shallow slashes on each loaf with a sharp serrated knife.
4.  Bake at 425° F for 30 minutes, then reduce the temperature to 375° F and continue to bake until a wooden pick or skewer inserted into the center of a loaf comes out clean, 15 to 20 minutes longer.  Transfer loaves to a wire rack to cool slightly before serving warm.
Notes:
1.  This bread is best the day it is made, but loaves can be tightly wrapped in foil and frozen for up to 1 month.  Reheat wrapped in foil in a 325° F oven, until heated through, about 15 to 20 minutes.
2.  When in doubt, remove the bread from the oven on the early side.  They will overcook easily, and become dry.