Week Fifty: Bourbon Week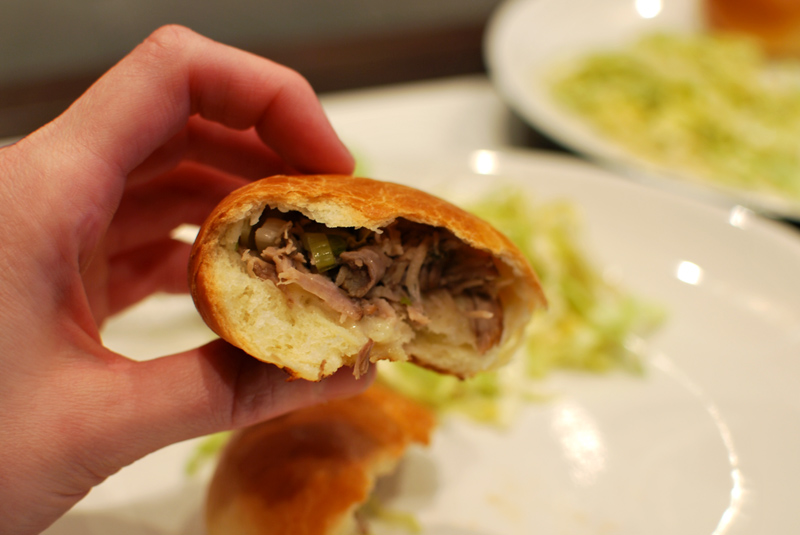 Bourbon and pork are no strangers.  Google "Bourbon pork", and you'll get about six million replies.  Million.  Pork has a natural affinity for sweet flavors (google "fruit pork", and you get a staggering seven million replies), and the burnt-oak depth of Bourbon gives pork a charred sweetness, reminiscent of slow barbecue flavors.  (Indeed, Bourbon is a common ingredient in many barbecue sauces.)
When I decided to stuff bread with Bourbon-braised pork, good barbecue was definitely an inspiration.  But the idea of pork-stuffed buns is decidedly Asian, so a fusion was in order.  Cabbage is commonly served with pork across Asia, but it's almost requisite with barbecue, in coleslaw form.  So the flavor of the pork would be rooted in Southern barbecue, while the bread dough itself and the use of scallions would draw from the flavors of the Far East, with cabbage providing the bridge between the two worlds.
The dough here is a soft one, lightly enriched with egg and butter for tenderness.  Sweetness is added sparingly, just enough to complement the pork, but not enough to appear overall as anything less than savory.  Brushed with an egg wash before baking, they emerge as golden brown orbs, giving little hint as to the treasure contained within.
Inside, the pork has a rich and smoky depth from the Bourbon, one that is not necessarily obvious, but would certainly be missed, were the Bourbon omitted.  The cabbage retains a subtle crunch, for a lovely contrasting texture, while the scallions provide a sharp freshness.  These buns were delicious served plain, but would be equally good with a hoisin dipping sauce, if you like.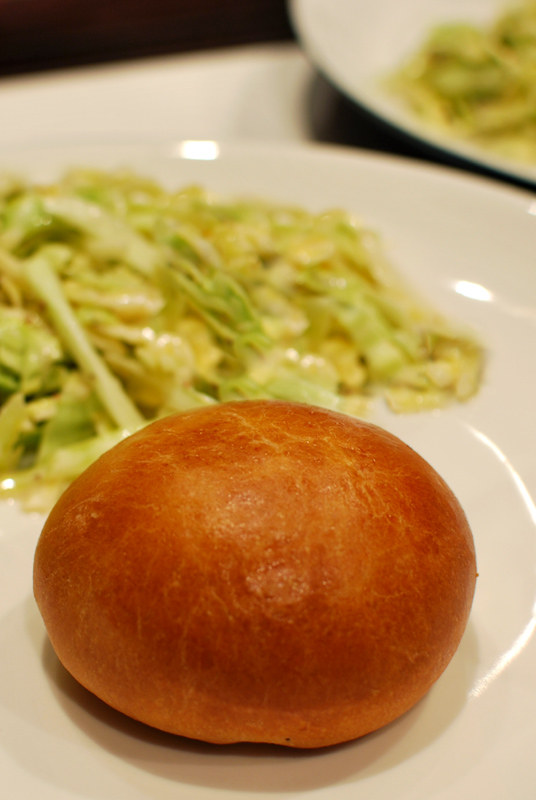 Bourbon Braised Pork Buns
Makes 12 buns
For the dough:
9 1/2 ounces (2 cups) unbleached bread flour
1 tablespoon sugar
1 1/4 teaspoons instant yeast
1 teaspoon salt
1/2 cup water, at room temperature
4 tablespoons butter, melted and cooled slightly
1 large egg, lightly beaten
1 tablespoon honey
For the filling:
6 to 8 ounces Bourbon-braised pork, cooled to room temperature and shredded (recipe below)
1/2 cup chopped scallions (about 3 medium)
1 cup chopped cabbage (about 1/4 medium cabbage)
1 egg beaten with 1 tablespoon water to make an egg wash
1.  In the bowl of a stand mixer, whisk together the flour, sugar, yeast, and salt.  Add the water, butter, egg, and honey.  Using the dough hook, mix at low speed until a rough dough forms.  Increase the speed to medium-low, and knead until smooth and elastic, about 6 minutes.  The dough should be slightly tacky, but not sticky, and should clear the sides and bottom of the bowl.  Add additional flour or water as needed to correct the consistency.
2.  Transfer the dough to a large, lightly oiled bowl.  Cover tightly with plastic wrap and let stand at room temperature until doubled in size, about 1 1/2 to 2 hours.
3.  Lightly grease a large baking sheet, or line with parchment paper.  Turn the dough out onto a lightly-floured surface, pressing gently to deflate.  Divide the dough into 12 even pieces, and shape into round balls.  Cover loosely with plastic wrap, and let rest for 10 minutes.  While the dough rests, prepare the filling ingredients.
4.  Using a rolling pin or your hands, and keeping the unused pieces covered, flatten each ball out to a flat round shape, using only as much flour as needed to prevent sticking.  Place a tablespoon or two of the shredded pork in the center of the dough, and top with a little of the cabbage and scallions.
5.  Pull the outside edges of the dough up and around the filling, pinching firmly to seal the seam.  Transfer to the prepared baking sheet, seam side down.  Cover loosely with lightly oiled plastic wrap, or a damp kitchen towel (not terry cloth).  Let stand for 30 minutes at room temperature, until puffy but not necessarily doubled in size.  Preheat the oven to 375º F thirty minutes before baking, placing a rack in the middle position.
6.  Gently brush each bun with the egg wash, taking care not to deflate.  Bake at 375º F for 20 minutes, or until well browned, rotating the sheet halfway through baking.  Transfer to a wire rack to cool at least 15 minutes before serving.
Bourbon Braised Pork
Adapted from Frank Stitt's Southern Table, by Frank Stitt
Makes about 4 servings
2 medium turnips, peeled and cut into wedges
2 tablespoons vegetable oil
2 pounds pork shoulder (see note 2 below)
1 medium yellow onion, chopped
1 bay leaf
1 sprig thyme
3 garlic cloves, crushed
1/4 cup Bourbon
1/2 cup white wine, or light-flavored beer
2 cups low-sodium chicken broth
1.  Preheat the oven to 325º F.  Set a suitable braising pan nearby (such as an enamel Dutch oven), and place the turnip wedges in it.
2.  In a large heavy skillet, heat the oil over medium heat until hot but not smoking.  Season the pork with salt and pepper.  Place the pork in the pan and brown on all sides, about 3 to 4 minutes per side.   Remove to the braising pan.
3.  Add the chopped onion to the hot skillet, and cook until well colored and nearly caramelized, about 15 minutes.  Add the bay leaf, thyme, and garlic.
4.  Remove from the heat, and very carefully add the Bourbon.  Take care to not ignite the Bourbon, which can happen easily.  Return to the heat and simmer until reduced by about half.
5.  Remove from the heat again, and add the wine or beer.  Return to the heat and simmer until reduced by half.  Add the chicken broth, and heat until just simmering.
6.  Transfer the onion and braising liquid to the pan.  Cover the surface with a sheet of parchment paper (to prevent the meat drying out), and cover with the pot lid or a tightly-fitted piece of aluminum foil.
7.  Transfer to the oven, and bake for 1 1/2 to 2 hours, or until the pork is tender, and pulls apart when pulled gently with a fork.  Remove the pork and let cool, covered, for at least 15 minutes before serving; or cool to room temperature before using in a recipe.
Notes:
1.   Buns are best eaten within an hour or two, but may be cooled 1 hour, then wrapped tightly and frozen, to be reheated in a 350º F oven for 10 minutes, or until heated through.
2.  I used a bone-in piece of meat, but boneless is fine as well.  If you use boneless, you can chop the pork into 2 inch cubes for slightly faster and a potentially more flavorful braise (due to the extra fond on the greater surface area).