Week Fifty: Bourbon Week
For me, one of the most highly-anticipated moments of the Christmas season has for years been the first taste of my Old Kentucky Grandmother's famed Bourbon balls.  In recent years, she has begun to supplement with peanut butter cups; but no matter how good those are, everyone knows the Bourbon balls are the real star of the show.
They remain stashed away in the bomb shelter in her basement (yes, really), where they stay at an appropriately cool temperature.  Family members will often run into each other down there, stealing away back upstairs surreptitiously with a smile and a full mouth, hoping to avoid the invariable-if-caught scolding.  Each year, she seems to have to make more, and each year, she laments that there never seems to be enough to go around; all this, even though each of her family members is sent packing with at least two pounds of the cherished things.
Bourbon balls are a purely Kentuckian confection, pairing the very Southern pecan with what may be The Most Perfect Flavor Pairing Known To Man, Kentucky Bourbon and good chocolate.  Created by Ruth Booe in the late 30's, the original Bourbon ball has a closely guarded recipe; and though you may see that most versions online include crushed cookies and corn syrup, I've personally never had one made like that.
No, for me, the perfect Bourbon ball is simply butter, powdered sugar, and Bourbon-soaked pecans, all rolled into a ball that is dipped in chocolate.  Proportions may vary according to taste, but the end result is invariably sweet, rich, boozy, and wholly irresistible.  When I decided to make this beloved candy into a bread, it seemed only fitting that the bread should encapsulate all those qualities as well.
This bread, then, is a quick bread with loads of chocolate and pecans, supported by a background of smoky bourbon, and a slight tangy flavor from the use of buttermilk, for a little contrast.  I've kept the sweetness less than it might have been — I'm not a fan of feeling food stick to my teeth hours after I've eaten it — but it's certainly far from savory.
In keeping with the typical garnish of a single pecan half crowning the top of certain Bourbon balls, I've decorated the top of this loaf with a row of pecans, with the suggestion to cut each slice using the width of the pecan as a guide, each slice therefore giving a nod to its inspiration.
Though no bread could ever steal the spotlight from a real Bourbon ball, especially those made by my grandmother, this recipe certainly does a good job at turning those ingredients and flavors into a loaf of bread.  No, it won't ever take their place, but it just might tide me over until I get my hands on the real deal.
Now if you'll excuse me, I've got a bomb shelter to raid.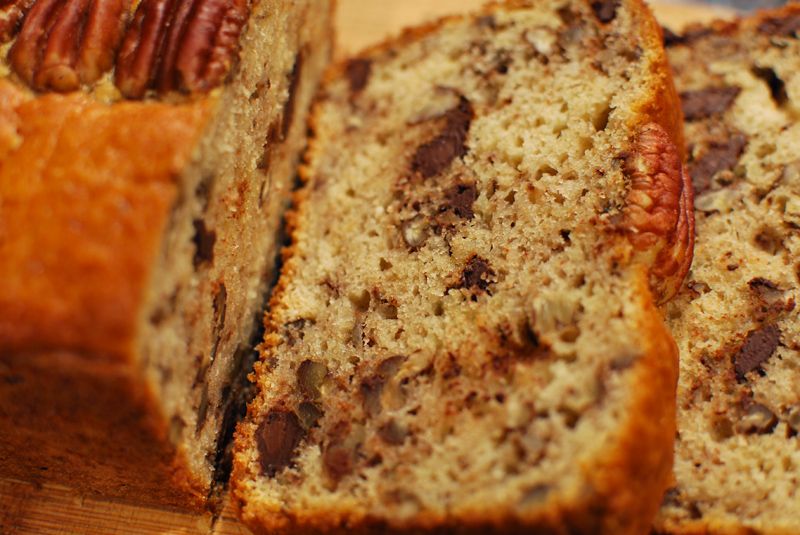 Bourbon Ball Quick Bread
Makes one 9 x 5 inch loaf
9 ounces (2 cups) unbleached all-purpose flour
1 tablespoon baking powder
1/2 teaspoon baking soda
1/2 teaspoon salt
2 large eggs
2/3 cup sugar
6 tablespoons butter, melted and cooled slightly
1/2 cup milk
1/2 cup buttermilk, well-shaken
1 teaspoon vanilla extract
1/4 cup Bourbon
4 ounces (about 1 cup) pecans, toasted and chopped
4 ounces (about 3/4 cup) chocolate chips, or chopped chocolate
12 to 15 whole untoasted pecan halves, or as needed for garnish
1.  Preheat the oven to 350º F.  Butter a 9 x 5 inch loaf pan.  Add a spoonful of flour, shaking around to coat the entire inside of the pan.  Knock out the excess flour.
2.  Spread the pecans in a single layer on a sheet pan, and toast in the oven for 5 to 8 minutes, or until fragrant.  While still warm, chop, and set aside to cool slightly.
3.  In a medium bowl, whisk together the flour, baking powder, baking soda, and salt.  Set aside
4.  In a large bowl, or with an electric mixer, whisk the eggs with the sugar until slightly thickened, about 2 minutes.  Whisk the butter in slowly.  Add the milk, buttermilk, vanilla, and Bourbon.
5.  Add the dry ingredients, and fold in gently with a spatula until the flour is mostly moistened.  Add the pecans and chocolate, and fold in just until no more pockets of dry ingredients remain.  Scrape batter into the prepared loaf pan, and smooth the top.  Gently lay the whole pecan halves in a line lengthwise down the middle of the loaf, placing so the longer side of the pecan is parallel to the short side of the loaf pan.
6.  Bake at 350º F until golden brown and the loaf feels firm when pressed gently in the middle, 45 to 55 minutes.  Let cool briefly in the pan, about 5 minutes, before transferring to a wire rack to cool thoroughly before slicing.