Week Twenty-Three: Breads With Fruits
Blueberries are one of my all-time favorite foods.  I love the little snap as you bite through the skin, I love their jammy, almost-tart sweetness, I love the way they stain your fingers and lips.  I love that I can eat a bucket of them, and still have room for dinner.  They're one of those foods that can do anything, from livening up your yogurt at breakfast, to nestling into salad greens at lunch, to cooking down into a thick sauce for roast pork at dinner, to studding a fruit tart for dessert.  And there's simply no beating a blueberry smoothie, am I right?
Obviously, we're all quite familiar with blueberry muffins.  (Maybe not these, exactly, which were quite good, but still.)  But why don't we ever see blueberries mixed into a yeast bread?  Is it really that far of a stretch to imagine a crisp-crusted loaf, dotted and stained with purple in every slice?  I had a hunch that it would work pretty well.
And I was right.  It worked so well, in fact, I may have a new favorite brunch item.  This bread turned out to be a handsome spiral of a centerpiece, wine-colored juices cheerfully running down the sides where the blueberries popped out, making the loaf look positively Dionysian.  The crust, a rich golden brown, was just hard enough to give the soft interior a little structure, but was not shatteringly crisp, an entirely appropriate state.
The inside was filled with purple caves here and there, steamed into existence by a blueberry that had lived and lost, and remained a concentrated heap of its former self at the bottom of each one.  The crumb was open and airy (even more so than the picture intimates), with a subtle texture and nuttiness from the wheat flour and ground oatmeal in the dough.  A background of spice warmed and rounded the overall flavor.
For me, it's the best of two worlds: a rustic, artisinal bread, combined with those most beloved blueberries.  True, this bread would turn into one heck of a bread pudding, or an excellent french toast; but I imagine it'll be hard to have leftovers of this sitting about (despite the hugeness of the loaf).  I can't really picture a better way to spend any given Sunday morning, than to curl up with a book or movie, a couple of thick, toasted slices of this bread, some butter, and a warm cup of tea or coffee.  Actually, that sounds pretty good for a Wednesday night, too!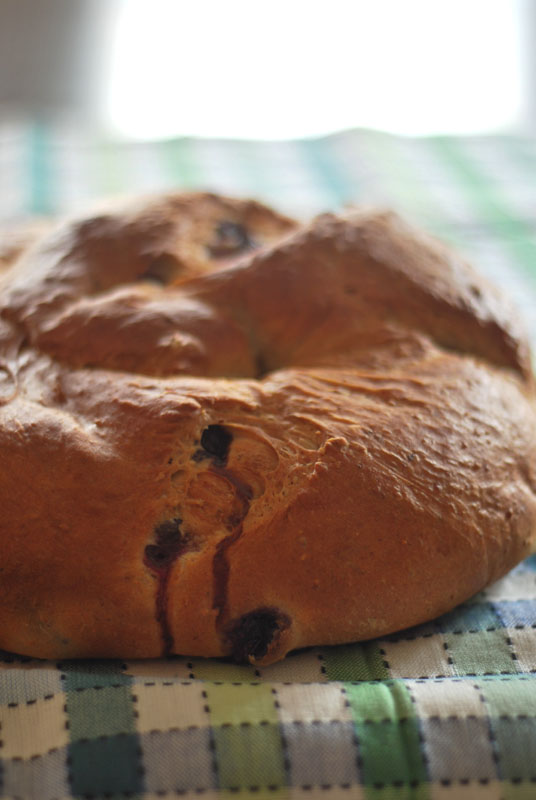 Blueberry Oatmeal Bread
Adapted from Bread by Christine Ingram and Jennie Shapter
Makes 1 large round
12 ounces (3 scant cups) unbleached bread flour
4 ounces (about 1 cup) white whole wheat flour, divided
1/2 cup regular or steel-cut oatmeal, blended to coarse meal in a food processor
1/2 teaspoon ground cinnamon
1/2 teaspoon ground ginger
1/8 teaspoon ground cloves
1 teaspoon kosher salt
1 1/2 teaspoons instant yeast
1/2 cup warm water (110º to 115º F)
1/2 cup warm milk  (110º to 115º F)
2 tablespoons honey
2 tablespoons unsalted butter, melted and cooled slightly
1 egg
6 ounces fresh blueberries, washed and dried
1.  In the bowl of a stand mixer, whisk together the bread flour, 2 ounces of the white whole wheat flour, the ground oatmeal, spices, and salt.  Add the yeast, and whisk to combine.  Combine the warm water, milk, honey, butter, and egg, mixing with a fork until combined.  Add the milk mixture to the dry ingredients in the mixer bowl.
2.  Using the dough hook, mix at low speed until the dough comes together and all the flour is moistened, scraping the bowl if necessary, about 1 to 2 minutes. Without removing the hook or the bowl from the mixer, cover the bowl loosely with plastic wrap, and let rest for 20 minutes.
3.  After the rest period (or autolyse), continue kneading the dough at medium-low speed for 7 to 8 minutes, adding the remaining white whole wheat flour by tablespoons as needed to achieve the proper consistency.  The dough will look sticky at first, but will come together in a cohesive ball that should clear the sides of the bowl.
4.  Turn the dough out onto a lightly floured surface.  Knead a few times, and form into a round ball with a skin stretched around the outside.  Transfer to a lightly oiled bowl, seam side down.  Cover with plastic wrap, and let rise in a warm place until doubled in size, about 1 hour.
5.  Line a baking sheet with a sheet of parchment paper, or lightly oil the pan.  Turn the dough out onto a lightly floured surface.  Dust the top lightly with flour, and roll out with a rolling pin into a 10 by 14 inch oval or rectangle, lifting and stretching the dough to ensure it isn't sticking.  If the dough resists, cover with plastic wrap, and let rest 5 minutes before rolling again.
6.  Sprinkle the blueberries evenly over the surface of the dough.  Starting with 1 long end, roll the dough up jelly-roll style, being careful not to crush the blueberries.  Pinch the seam shut gently, then pinch the ends to seal.
7.  Carefully lift the roll, letting it stretch out in your hands a little.  Coil the dough decoratively onto the prepared baking sheet, tucking the ends under.  Cover loosely with lightly-oiled plastic wrap, and let rest until nearly doubled in size, about 45 minutes.  Preheat the oven to 400º F.
8.  Using a sharp serrated knife, quickly slash the bread 5 or 6 times with decisive cuts, being careful not to deflate it.  Spray or sprinkle the loaf with water, and transfer to the oven.  Bake at 400° F for 5 minutes, opening the door to spray again with water every minute or two.  Continue baking for another 20 to 25 minutes, or until golden brown and baked through, and an instant-read thermometer registers 200° F when inserted into the center.  Remove to a wire rack to cool completely before cutting into.
Notes:
1.  If you can't find white whole wheat flour, feel free to substitute an equal mixture of regular whole wheat flour and bread flour instead.
2.  Many recipes call for tossing blueberries in flour before adding them to breads, in order to keep them evenly suspended in the batter or dough, and not sinking to the bottom.  I did not find this necessary in this case, since they are rolled up into the dough, which held them firmly in place.  But if you prefer to add a little flour, it certainly won't hurt.
3.  It's important to let this bread cool down thoroughly before slicing into, letting the steam given off by the blueberries dissipate into the bread.  Cut into it too soon, and the bread will end up gummy, and dry out far more easily.
4.  If you like, you can brush the bread with a little butter or oil upon removing from the oven, to give the crust a pretty sheen, and to soften it a little.