Week Five: Breads for Parties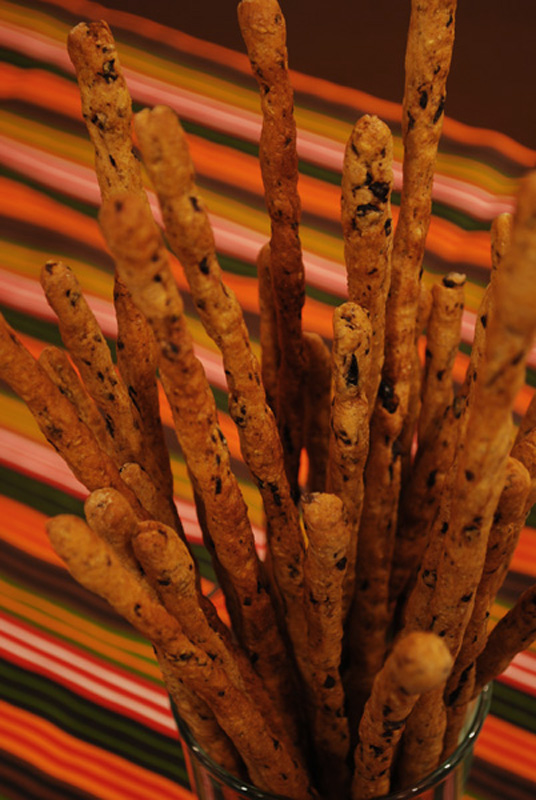 One of the many personality traits I have inherited from my mom is a love of entertaining.  Unlike many of the others, though, this trait surfaced only recently; in fact, the very idea of having people in my home used to give me a fair amount of anxiety.  I mean, what will we all do?  What if they don't like the food?  Oh god, what if no one shows up?  Not to mention the difference in the level of sophistication required to make the switch from throwing a house party of the sort I had been used to in college, to the far more Martha Stewart affairs I envisioned myself swanning around.  Fortunately, though, hosting a party is one of those things that gets easier the more you do it.  In the preparations of those first several nerve-wracking efforts, I would embolden myself by remembering that these were my friends that I was inviting into my house.  They weren't there to watch me jump through hoops, they weren't there for a free meal, they were there to spend time with me, because they were my friends.  They were there because of camaraderie and love, for passing a good time, as they say in Louisiana.
Now don't get me wrong – I'm a foodie through and through.  Just because my friends are there for the fun doesn't mean I'm going to neglect the food.  Indeed, I'm going to put on my chef hat and give it all I've got.  (Not literally.  It would mess up my hair.)  Having people over is an excuse for me to try out a new recipe, and to cook something a little fancy; and if it happens to be out-of-this-world delicious, so much the better, right?  So this week, I give you breads that are good for parties: parties of every kind, from a simple wine and cheese affair all the way to a formal sit-down dinner.  (The rest of the menu is up to you, though.)
This first recipe is for grissini, a pencil-thick Italian breadstick.  In Italy, paper packages of these adorn nearly every restaurant table, as a little snack to stave off hunger before the antipasti and primi piatti arrive.  Usually plain, this version is dolled up a bit, with rye flour and massively-flavorful cured black olives.  Another pleasant difference in this recipe is the lack of yeast.  Grissini originated as simply a thinner, smaller breadstick, made with the same dough as the usual bread.  Thus, they are usually yeast-leavened; but I prefer this chemically-leavened version.  They're so small, and go so quickly, that it seems hardly worth the time needed for yeast.  This recipe, though, comes together in hardly any time, and is kind of fun to make into the little sticks.  Did you ever make clay snakes when you were young? If you did, then you can make grissini.  (If you didn't, I'm so very sorry.  You missed out.)
Grissini are a perfect accompaniment to wine and cheese.  You could certainly leave out the powerful olives, to have a more palate-cleansing snack; but I highly recommend trying this recipe as is at least once.  I doubt you'll look back.  This recipe turns out wonderfully crunchy, tempting, and fragrant sticks, full of olive flavor, but not overwhelmingly so.  They are nearly irresistible, even after you brush your teeth (take it from one who knows). One traditional – and extremely delicious – preparation for grissini is to wrap each with a thin shaving of prosciutto, but I think you would die of over-consumption of salt if you tried that with these.  It's best to save your prosciutto for wrapping around al dente asparagus spears, for wrapping around nut- or cheese-stuffed dates, or simply eating al crudo, all of which would beautifully accompany these grissini.  Another benefit to this recipe is that it produces very dry breads, which will stay good in an airtight container for many days.  You can make these far in advance of a gathering, call your friends, get some nice cheese, pour yourself a glass of cabernet, and enjoy the party.  Now what exactly was I so anxious about again?
Black Olive Grissini
From Gourmet Magazine
1/2 cup rye flour
3/4 cup all-purpose flour
1 teaspoon baking powder
1/2 teaspoon baking soda
1 teaspoon sugar
1/4 teaspoon salt
1/4 cup Kalamata or other brine-cured black olives (3 oz), pitted and finely chopped
1/2 cup well-shaken buttermilk
2 tablespoons unsalted butter, melted and cooled to room temperature
1 large egg beaten with 1 tablespoon water to make egg wash
1.  Put oven racks in upper and lower thirds of oven and preheat oven to 350°F. Line 2 large baking sheets with parchment.
2.  Whisk together flours, baking powder, baking soda, sugar, and salt in a large bowl, then stir in olives, buttermilk, and butter until a dough forms. Turn out onto a lightly floured surface and knead 5 or 6 times.
3.  Halve dough and form each half into a 12-inch log. Cut each log into 16 pieces. Roll each piece into a 10-inch-long rope and arrange 1/2 inch apart on lined baking sheets.
4.  Brush breadsticks lightly with some of egg wash. Bake, switching position of sheets halfway through baking, until golden and crisp, 25 to 30 minutes total. Cool on sheets on a rack 30 minutes.
Notes:
1.  Cured olives are full of strong flavor, so a little goes a long way.  They look a bit like a cross between olives and raisins, a little shriveled and wrinkly.  You can generally find them on any olive bar (at many grocery stores these days), and are sold bottled by at least one brand.  You could substitute regular olives, but the flavor won't be as intense, and the extra liquid might affect the texture.  But whatever you do, please don't use canned olives.
2.  Try forming the grissini into something other than straight lines, for something a little more fun.  You could make squiggles, or spirals.
3.  I baked mine until they were very brown, which took about 20-22 minutes.  But my oven was already very hot from cooking dinner (450º F), and I'm not sure it actually got down to 350º by the time I put them in.  Use your judgement, and know that they will cook fairly quickly, since they're small.
4.  I imagine that you could substitute whole-wheat flour for the rye flour, but they might end up a little tougher (since rye flour produces no gluten, whereas whole-wheat flour does).  And since you roll these so much, it might make a difference.
5.  Again, if you don't have buttermilk, just warm 1/2 cup milk in the microwave, about 30 seconds, and add a splash of vinegar.  After a few minutes, you'll have ersatz buttermilk!
6.  If you plan on serving more than about 4 people, you may want to double the recipe.  I promise, they won't hang around long.